[ad_1]

There's a new CRM in town, and it's perfect for solopreneurs. Bigin (a simplified version of Zoho CRM) is easy to use and packed with features that make managing customer operations; marketing, sales, customer service, and customer relationships a breeze.
Best of all, it won't break the bank. Let's see if it's right for you!
What is Bigin and Why It's Great for Solopreneurs
Bigin is a simple CRM built to help solopreneurs like you stay organized and productive.
It's a tool that brings together task management, customer relationship management (CRM) and project scheduling into one platform.
If you're an entrepreneur hopping from one platform to another and struggling with having new client opportunities fall through the cracks — this is worth checking out.
What's the Difference Between Bigin and Zoho CRM?
Technically, Bigin is a simple CRM. That means that it's a trimmed down version of it's much bigger parent CRM, Zoho CRM. So here are the main differences.
Bigin is like a baby Zoho CRM. It's got everything you need to get started and nothing you don't.
It's interface is more visual using the "pipeline" concept. A lot like Trello.

It includes a lot of templates so that you can get started quickly.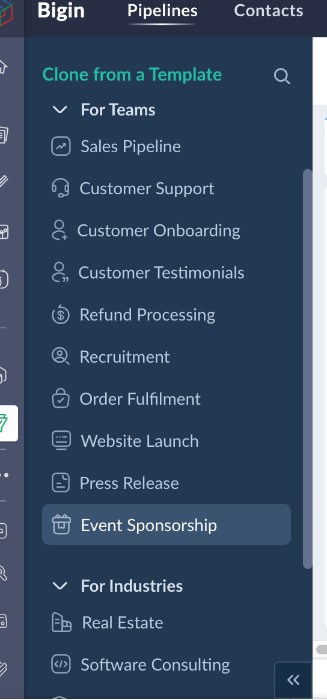 My Overall Reasons for Loving Bigin
Easy to use and extremely intuitive
Not gonna lie. Most enterprise level CRMs, heck, most small business CRMs are overwhelming and force you to spend more time filling in data than driving new sales.
The new and improved Bigin has really made improvements in this area.
As soon as you open it up, you see this handy-dandy sidebar with lots of great pipeline templates that you don't have to search for. As an aside, the older version had templates that I was never able to find — so this is an improvement.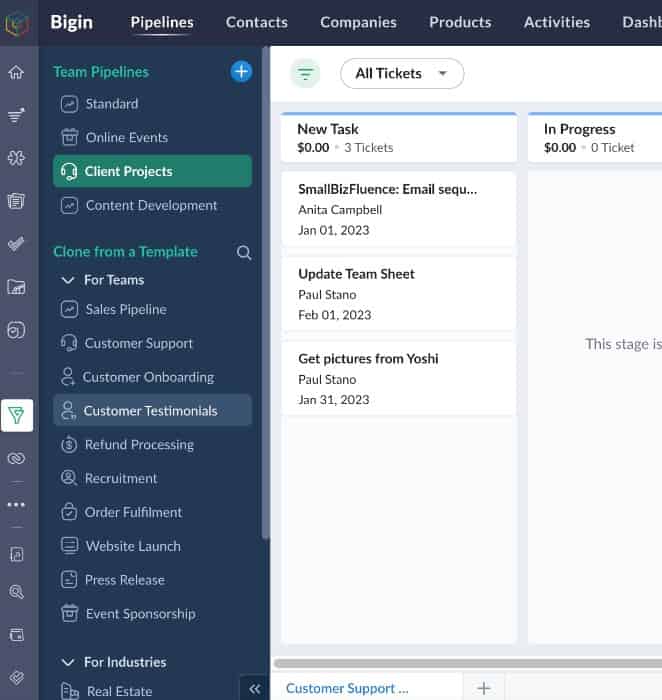 As a part of Zoho One — Your Whole Business is in ONE Place
Bigin is an app inside the Zoho One ecosystem, so that means you'll have everything in one place. Specifically, your email marketing, scheduling, project management, virtual meetings and events — literally every aspect in one place.
Of course, you also have access to Zoho CRM, but my honest opinion is that Zoho CRM is overkill and super confusing for most of us solopreneurs.
Zoho One – The Operating System for Business
Get an entire "enterprise quality" operating system at a small business price. 50+ small business apps — all integrated — all in one place and all at one insanely affordable price!
We earn a commission if you click this link and make a purchase at no additional cost to you.
It's affordable
Additionally, what I really love about Bigin is its pricing structure. Just $7 per month on its own. And "free" with a Zoho One subscription. I'm paying $42/month tax and everything. But that's for 55+ apps that I use to run my entire business.
Just click, drag, and drop
If you can click, drag, and drop, you can use Bigin. In fact, the hardest part about Bigin is choosing what templates you're going to use and how you're going to organize your workflows.
But don't worry if you don't find a template that's an exact match for your business process, you can choose a template and customize it — or you can create your own.
Here's an example from my Bigin account.
<iframe src="https://scribehow.com/embed/Zoho_Workflow__naPUvuVlTymLijVdAGE9xQ" width="640″ height="640″ allowfullscreen frameborder="0″></iframe>
Bigin Saves You Time, Keeps You Organized and Productive
If you're a solopreneur, Bigin Software can be a great tool to help you get organized and productive.
This customer operations software allows you to store pictures, documents, lists, tasks and comments all in one place. You can also set deadlines for your tasks and objectives to keep yourself on track.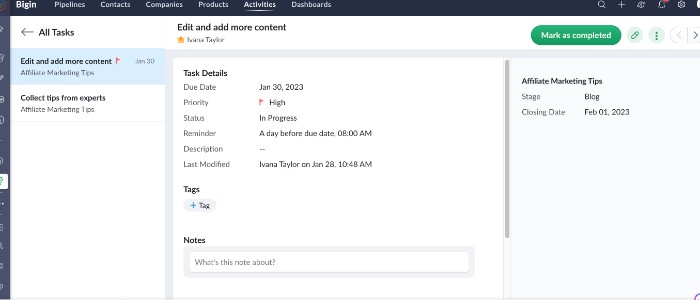 Work ON Your Business — with documented workflows
If you've been looking for ways to step away from your business, delegate and still feel like the business can run without you — this is what WORKFLOWS are for!
Simply think of everything as a flow or process from beginning to end.
Automated Workflows Use If This, Then That Thinking
Where most of us stumble is when one workflow transitions into the next — and that's where Bigin has this nifty workflow automation feature.
It's a basic "if this – then that" automation.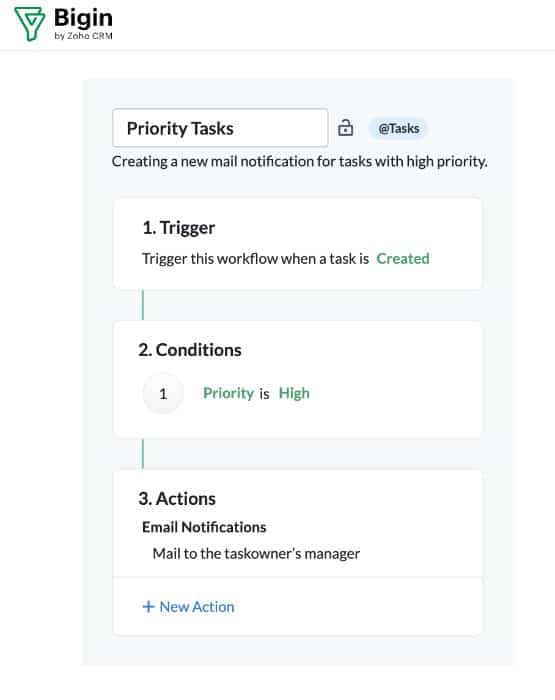 Use the Mobile App to Work from Anywhere
Another great Bigin feature is it's mobile app. Now, I have Zoho One – so it's inside an entire suite of Zoho Apps, but it's a great way to keep my deals moving forward no matter where I am.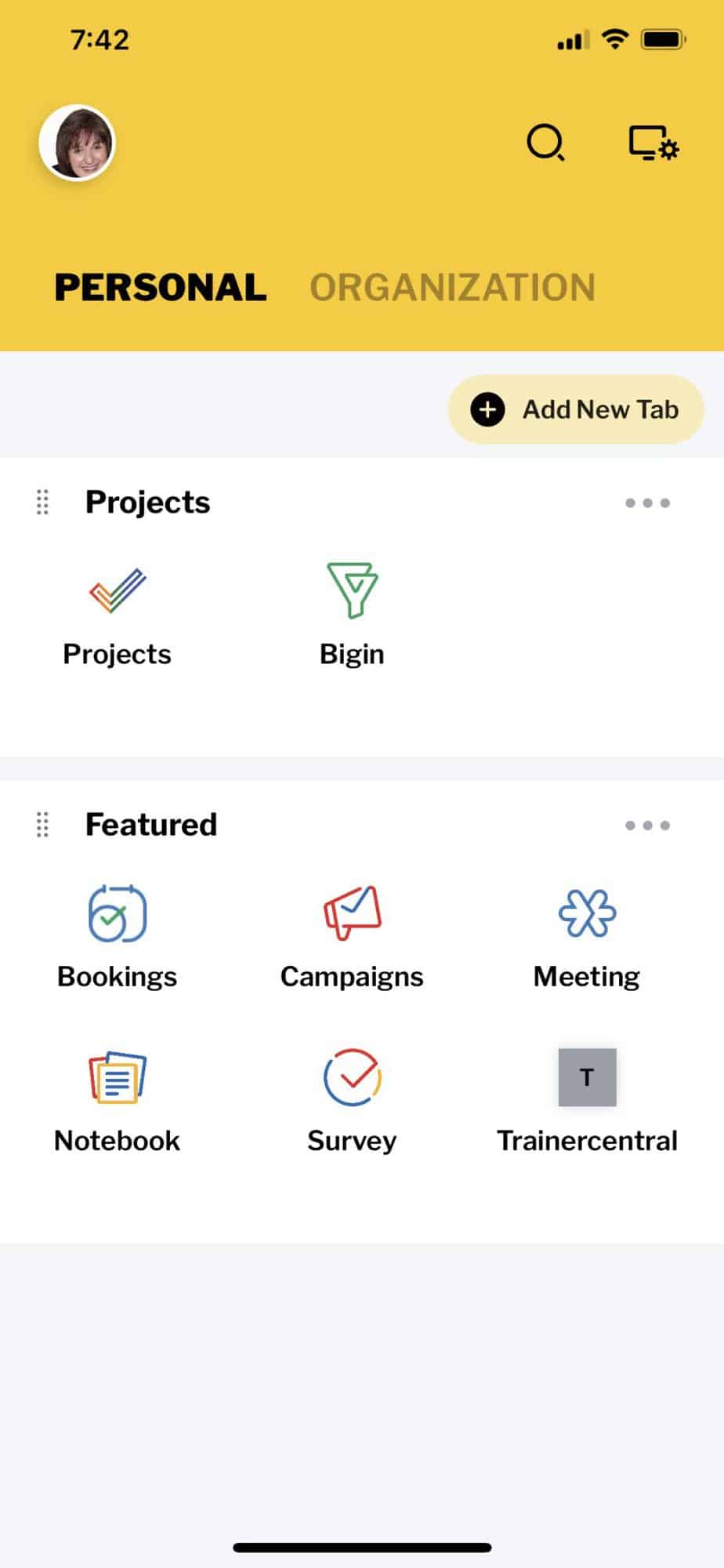 Integrated Telephony
I think this is a great feature for a business with teams. You can either use your own phone system or get numbers for each team member.
Once you integrate telephony into Bigin, the system will track your calls so that everyone is always on the same page.
Typically, this is a feature you can only get with enterprise plans — BUT — if you have Zoho One — then you have Bigin. And if you only have Bigin, you're getting this feature at the most basic level.
Save Time and Improve Consistency, Quality, Followup and Success
Creating a workflow means having a plan for how something should happen. With Bigin, there's no code required. All you have to do is set triggers for the workflow to start, specify a condition for the trigger, and select an action to be performed when the condition is met.
I don't need to tell you how many tedious repetitive tasks this can eliminate.
Email Templates that Eliminate Repetitive Tasks and Deliver The Right Info at the Right Time
I'm a huge fan of email templates aside from the obvious time saving benefits.
First, email templates keep the sale moving and deliver consistently correct information
There are two things that will stop a sale in its tracks; not sending an email right away and/or sending an email with incorrect information in it.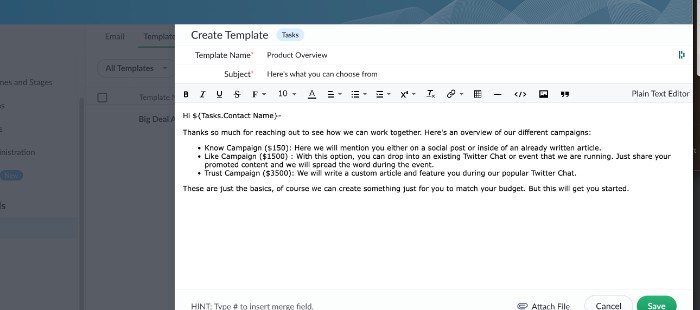 Oh and when it comes to talking about pricing and options — you don't want to have to sit down and write this email from scratch. You want to select a template and click send. This removes you from the emotional element of the pricing conversation.
Bigin has an easy email template feature that I really like. I created an email inside of 3 minutes. And if you already have samples of emails that you've sent and that have approved – this will take you less than a minute.
Manage Twitter Conversations in Bigin
Now, a lot of small businesses aren't running customer service via Twitter. But this is a great addition.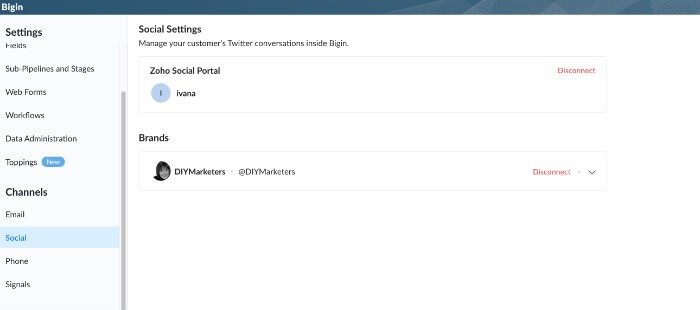 Simply connect your social profile and you can manage customer conversations from inside of Bigin.
Add Toppings
If you have a team helping you out in your business AND you have these different emails that go to different people i.e. support@yourcompany.com or sales@yourcompany.com — you can add a "topping" like "Email In" where all of these emails go directly into your Bigin so they don't get lost.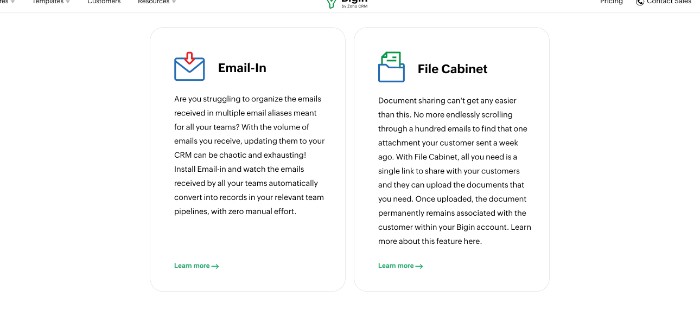 Pricing: Start with Forever Free
One of the things I love about Zoho — all of Zoho, is their pricing philosophy — You shouldn't have to think or worry about the price of software.
Well. there's nothing to worry about if it starts with a forever free plan for up to 500 contacts. Honestly, you can stay free for a very long time.
I have Zoho One, so for me — it's included as part of the entire Zoho One Suite.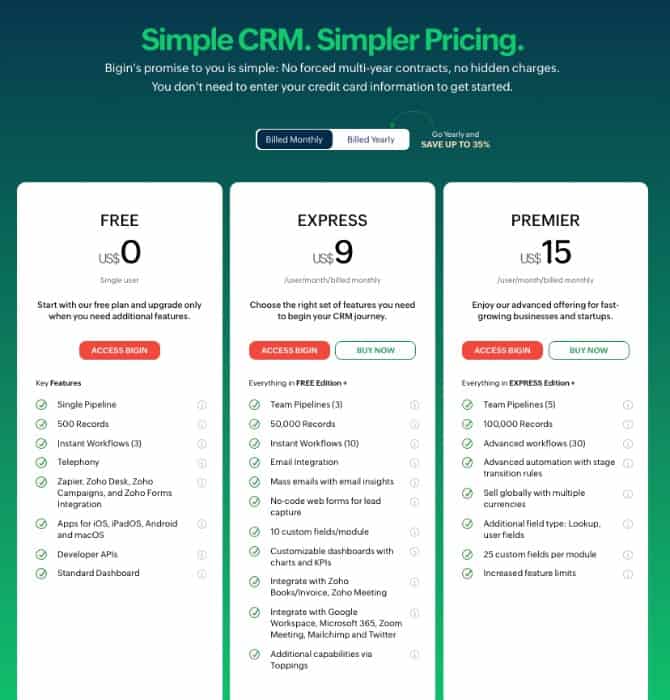 What's Missing in Bigin?
I've already told you what I love about Bigin — and there's a lot. But there are a few things that I think would make a busy solopreneurs life a lot easier.
Bigin's ability to connect with Twitter to manage conversations is a great first step. But a lot of customer support conversations and questions for solopreneurs are happening inside of Facebook groups and Facebook pages. I'm thinking those of you with Facebook communities would love that. Especially since it's not easy to capture engagement via Facebook.
Automatically filling out contact information.
This is a BIG one. Everyone knows that the number 1 reason sales people don't like CRMs is because no one has the time or the inclination to fill out contact information and social media handles. This is a BIG missing for me. Especially since I've been a Nimble user forever. This ONE feature is so critical and I really miss it in Bigin.
Managing lead and prospect conversations from online to Bigin
A LOT of my first conversations happen on social platforms like LinkedIn, Twitter, Facebook, etc. My goal is to move those connections off of social and into a CRM. Again, this is something Nimble does easily.
The real issue, I think, is the social platforms and their APIs which make it virtually impossible to move those contacts from their site to your site. Not sure if anything can be done about that.
Curating Your Best Prospects from Campaigns and Driving Them to Bigin
Currently you can drive people from Bigin to your email marketing software, like Zoho Campaigns. But you can't pull your most engaged leads from Zoho Campaigns and drive them into Bigin via it's native sync function.
I tried to set up a sync inside the Zoho Campaigns app to find the segment of highly engaged people and drive them to Bigin so that I can schedule calls with them — that didn't work. I'm sure you can do that with Zapier, but it's not native from Campaigns to Bigin.
Bigin Helps You Do the Success Behaviors that Generate New Sales and Loyal Customers
Being successful at sales has NOTHING to do with being persuasive. It has everything to do with listening, following up and simply DOING the right things at the right time every single day.
I call those success behaviors and this is where Bigin Shines.
I'm still exploring the platform and Zoho is always improving the platform. If you haven't already, I encourage you to give Bigin a test.
[ad_2]

Source link