When Uber Eats or DoorDash fails to deliver all (or part) of your meal, both companies refund the cost of the missing items, sometimes adding a little extra to compensate you for your problems. That seems like good customer service, but it's actually not because getting your money back and then some does not actually solve the problem.
People order food because they're hungry. Actual customer service would figure out how to expedite the missing meals or a reasonable replacement. Extra money does not make you less hungry nor does it give you the time back you wasted waiting for your order to arrive.
DON'T MISS: Here's Why Walmart, Target, and Kroger Should Drop Self-Checkout
President Joe Biden seems ready to make the same mistake with airlines. He has proposed legislation that would force airlines to cover the cost of hotels, food, and other expenses passengers incur when an airline cancels or a flight or one has a major delay.
On the surface, that seems like a good idea, but it doesn't actually solve the underlying problem. Passengers who have their flights canceled just want to get to their destination as fast as possible. Any legislation aimed at helping them should actually focus on remedies that get them where they are going, ideally before they incur any significant costs.
There's a way to do that, and Frontier Airlines (ULCC) – Get Free Report CEO Barry Baffle laid it out during a recent event with Delta Air Lines (DAL) – Get Free Report CEO Ed Bastian. The Frontier boss called for a return of rule 240.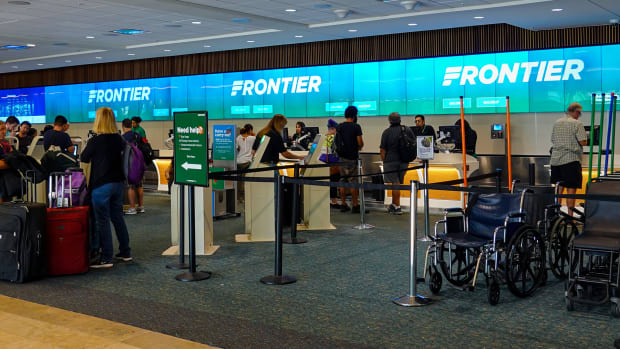 What Is Rule 240?
Biffle correctly identified that people whose flights get canceled aren't looking for free meals and hotel rooms. Those are the last resorts when it becomes impossible for them to get where they are going. Instead, they want to get to their destination by any means necessary.
A return of Rule 240 would accomplish that.
"Federal Aviation Administration Rule 240 mandated that an airline with a delayed or canceled flight had to transfer passengers to another carrier if the second carrier could get passengers to the destination more quickly than the original airline," according to Wikipedia.
The rule, which has functionally been obsolete since airline deregulation in 1978, still sort of exists in legacy agreements between American Airlines (AAL) – Get Free Report, Delta, American, and United Airlines (UAL) – Get Free Report but those deals are very limited.
Since Frontier, Southwest Airlines (LUV) – Get Free Report, Spirit Airlines (SAVE) – Get Free Report, and other discount carriers are not included, even the existing agreements are not very effective.
"If we, as an industry, get together and say we're going to protect consumers, that if there's a seat available, you're going to have it," customers would benefit more than they would under the administration's proposed rules, Biffle suggested, The Points Guy reported.
"There's a solution that already exists," Biffle added. "And I would like to work with the other airlines and the Biden administration to implement it."
Forget airline stocks – We're all-in on this travel stock
Frontier's Suggestion Solves the Actual Problem
While reimbursing passengers for delays and cancellations that are the airline's fault (staffing or mechanical issues, but not bad weather), it doesn't get people to their destination. Biffle's solution does that, and it should be the first line of defense.
"If you asked Southwest if they would have loved to have access to my seats during their meltdown, I bet they'd have loved it," he said.
Those seats, of course, would not have solved the problem, but if all airlines had to make their unsold seats available, the problem could have been much smaller.
That does not mean the administration does not need to force airlines to reimburse passengers for food, lodging, and other expenses when all efforts to get them to their destination fail. That, however, should only happen after all other means of delivering them to where they intended to go have been exhausted.
ALSO READ: