Getting a food order perfect every time may be one step closer to reality, as Kraft Heinz (KHC) – Get Free Report will debut its newest invention at the 2023 National Restaurant Association Show, which takes place in Chicago May 20–23. Kraft Heinz has a long history of finding the best way to compliment meals with its condiments.
Heinz is the number one ketchup or catsup depending on your preference. Over two to one people choose Heinz ketchup over the next leading brand Hunt's, according to Statista. Some ketchup lovers would argue that if it's not Heinz it's not worth putting on their burger or fries, while others would say ketchup is the same no matter what, which is just crazy.
Kraft Heinz knows that many customers enjoy both its ketchup and mayonnaise on mainly burgers, so it created a Mayochup which is a blend of ketchup and mayo in 2018. While the idea that the blend of the two condiments came with mixed feelings, it is now one of Kraft Heinz's more popular condiments.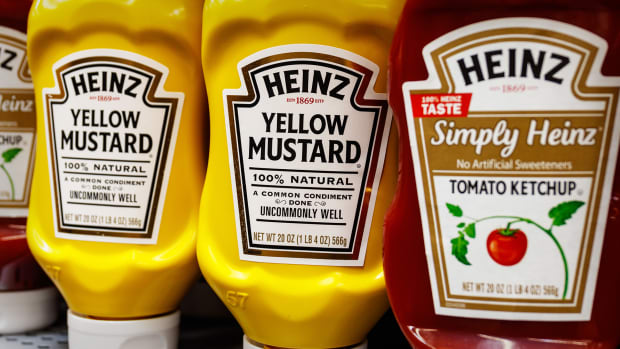 Kraft Heinz Creates Customizable Condiments
It wasn't so long ago that the covid pandemic impacted everyday consumables causing shortages on items such as toilet paper and "away from home" condiments. More people were ordering take-out and delivery than ever before during the pandemic, and fast-food restaurants and sit-down restaurants were giving much more of the condiments away. It quickly became apparent that a shortage of condiments was happening. You could have fries with that, but you might not get anything to dip them in. Fine, as adults can mostly deal with it, but tell a three-year-old toddler that they can't have ketchup and a full-blown meltdown is likely to ensue.
Those who remember enduring the great condiment shortage may soon find that not only can you get all the ketchup you want, but now you can even customize your own condiment. Being able to personalize orders has been something consumers have grown accustomed to, and now it's being taken to a new level.
The Heinz Remix could be in restaurants in as little as the end of 2023 or early 2024. The standalone machine would basically take your order for your customized condiment. Many people have seen the Coco-Cola free standing foundation drink dispensers, where customers can add cherry or vanilla among other flavored Coca-Cola products. Heinz Remix is like that, but with ketchup.
The new Heinz machine will have a selection of sauces like Heinz ketchup, ranch dressing, Heinz 57 Sauce, and barbecue sauce with flavor enhancers of jalapeno, smokey chipotle, buffalo and mango. The condiment customization doesn't stop there, as consumers will also be able to select the amount of flavor 'enhancers' of low, medium and high.
"As a company, we're transforming through innovation by making bigger, more intentional bets to fuel our growth and create new experiences for consumers," said Kraft Heinz Alan Kleinerman, vice president of disruption. "Heinz Remix is a great example of this consumer-first approach to innovation. We're changing the game for foodservice operators and sauce lovers – dipping will never be the same. With Heinz Remix, it's more than a sauce dispenser; it's an insights engine and business model enabler that will help Kraft Heinz understand and respond to consumer trends and flavor preferences in real-time. Who knows – maybe our next new sauce combination will come from a superfan using Heinz Remix!"
Kraft Heinz Copies Coca-Cola
The idea behind Kraft Heinz customizable condiment dispenser, is really just a saucy copy of Coca-Cola's fountain dispensers. Heinz has copied other ideas. When originally coming up with the name of its ketchup, the name came from H.J. Heinz seeing someone else's ad, stating the retailer had "21 styles" of shoes. Heinz thought the marketing was great, and using a number helped in remembering the brand and store. Heinz, then chose the number 57 because it 7 is lucky and it's had a better 'ring' to it than 58 or 59. Interestingly enough, there are not nor have there ever been 57 varieties of Heinz ketchup, but the marketing has worked well for over a century even if Heinz '57 Varieties' is completely fake but brilliant.